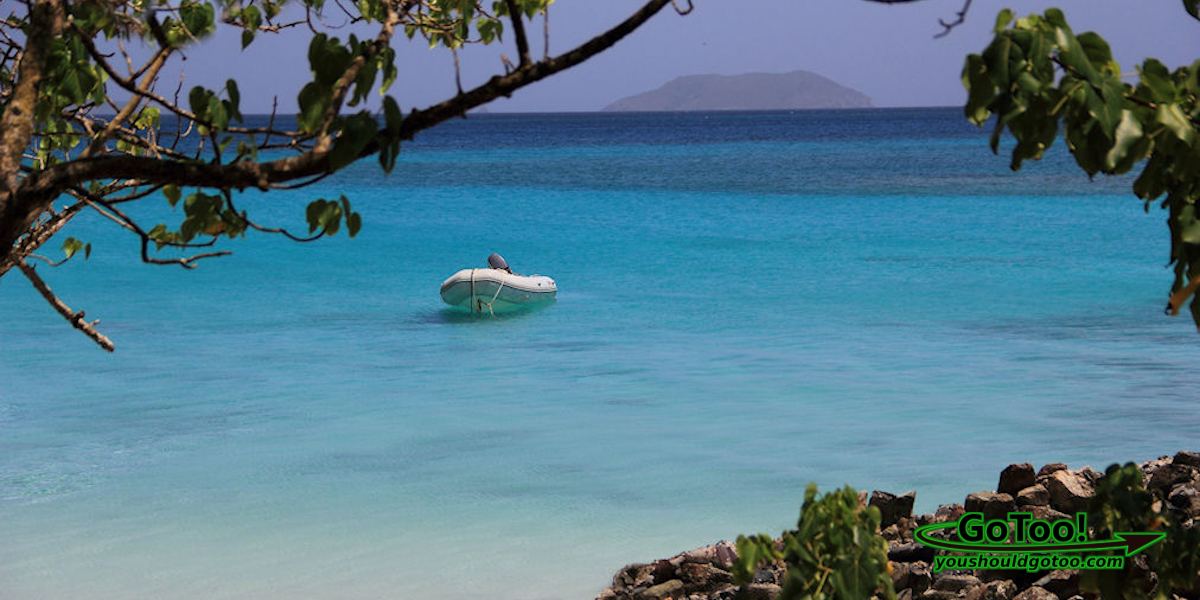 St. John in the US Virgin Islands is guaranteed to satisfy your desire to seek out the most beautiful beaches in the Caribbean. And, the island has much more to offer for those in search of adventure, come along as we take you on a tour of St. John in the US Virgin Islands.
We flew into St Thomas in the US Virgin Islands where we would be staying for our week long vacation. On day 4 we headed out for a day trip to St. John, just a few waves west of St. Thomas.
Where is St. John, US Virgin Islands?
St. John, the smallest of the 3 developed US Virgin Islands, is located in the Caribbean Sea only 4 miles from St. Thomas. There are no airports on the island, the only way to arrive is by boat. Hourly ferry service runs from St. Thomas as well as daily ferry service from several other nearby islands.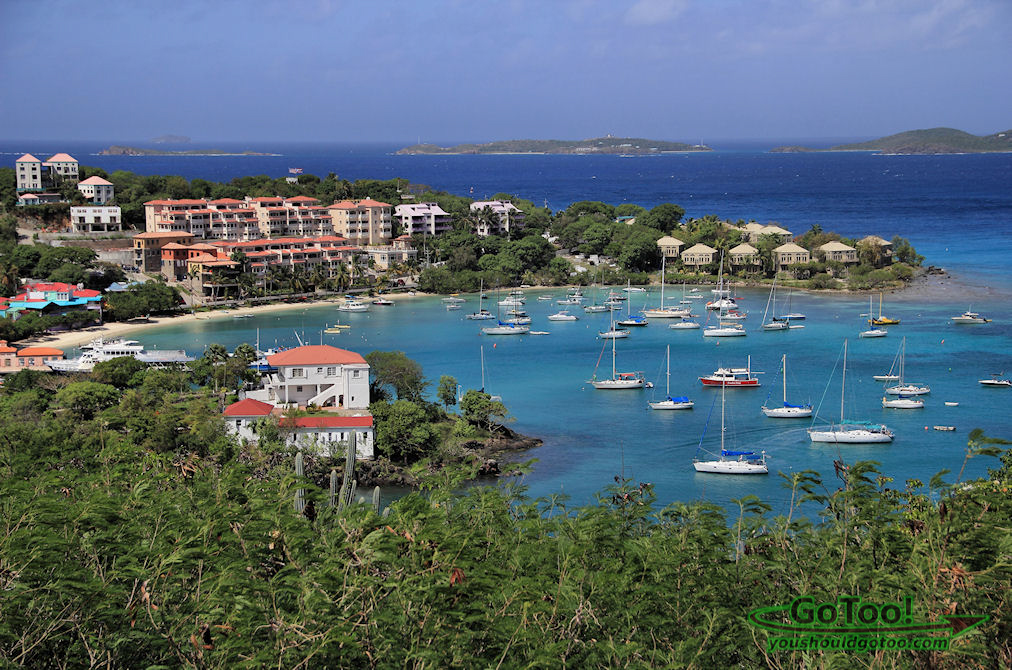 This is the view of Cruz Bay Harbor from the overlook along North Shore Road. We took the ferry from Red Hook in St Thomas to Cruz Bay in St John leaving our rental car in the parking lot at Red Hook. Arriving in St John, we walked a couple of blocks to a car rental agency and rented a Jeep for our day trip around the island. We found everything about parking our car at the ferry dock in St. Thomas, buying our tickets for the ferry and renting a Jeep when we arrived in St John to be hassle free. Or maybe it was just vacationing in the US Virgin Islands that makes everything seem that way. Whatever it was, we were ready to explore!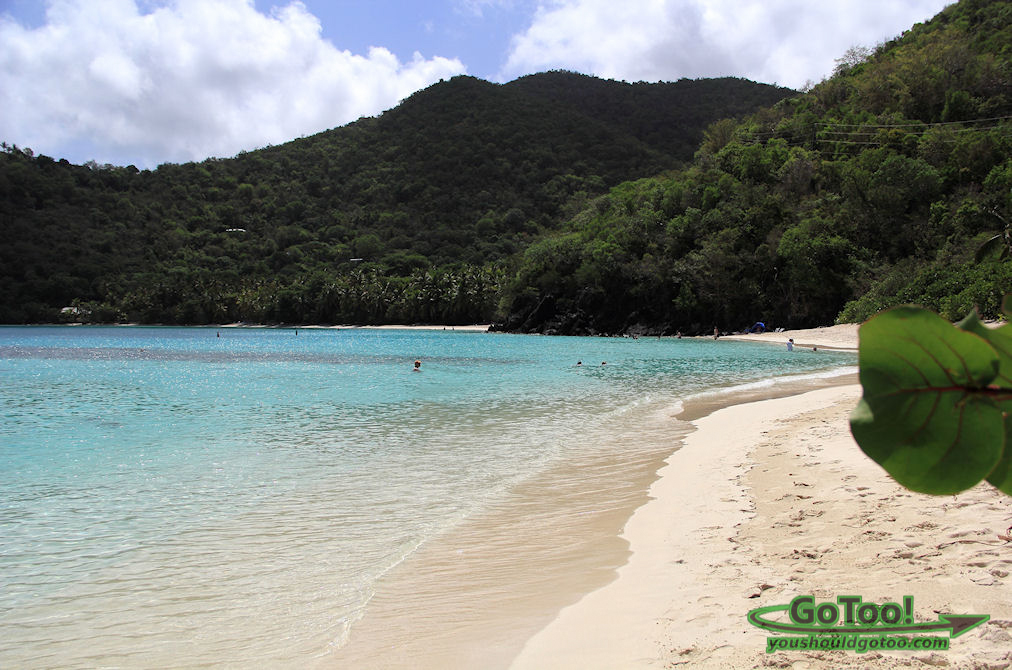 About Us


Hi! We are Lou and Barbara, a world traveling, nature loving couple searching out new and interesting places to explore, photograph and share with you our readers.CONTINUE READING
Hawksnest Bay is a stunning beach! The sand is soft and white and the water is so many shades of blue you will be amazed. The crystal clear water reminded us of our recent trip to Flamenco Beach in Culebra. And this is just the beginning of what's to come on St. John with a new beach to explore around every turn.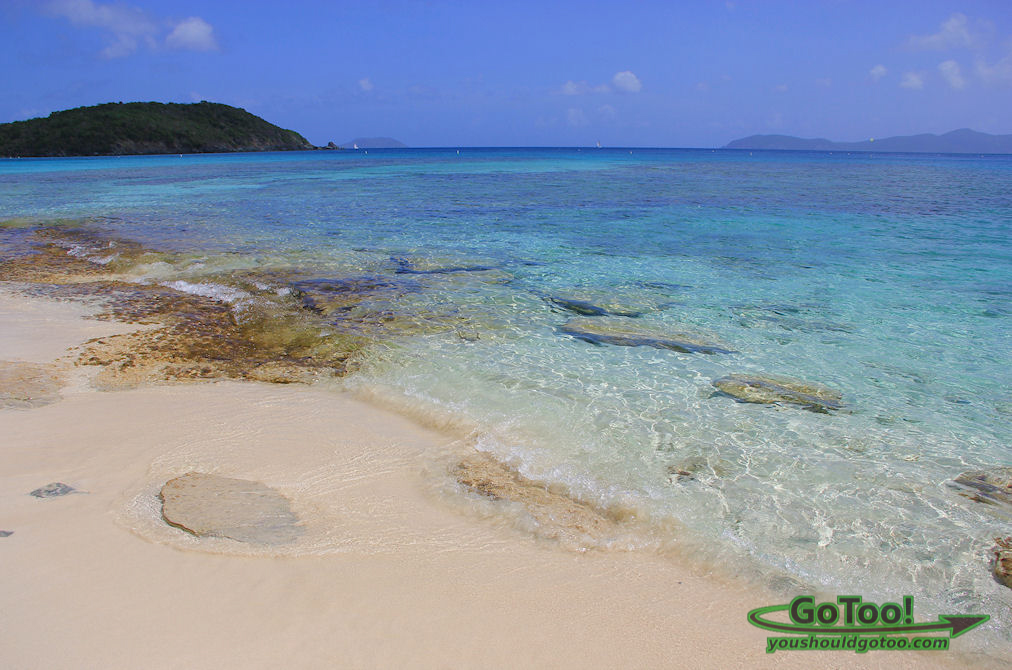 Snorkeling is good at Hawksnest Beach as there are many coral and rock formations to explore. There are covered picnic tables and BBQ grills here as well as restrooms and changing rooms. This is my favorite beach in the US Virgin Islands.

Where to Shop on St. John, US Virgin Islands?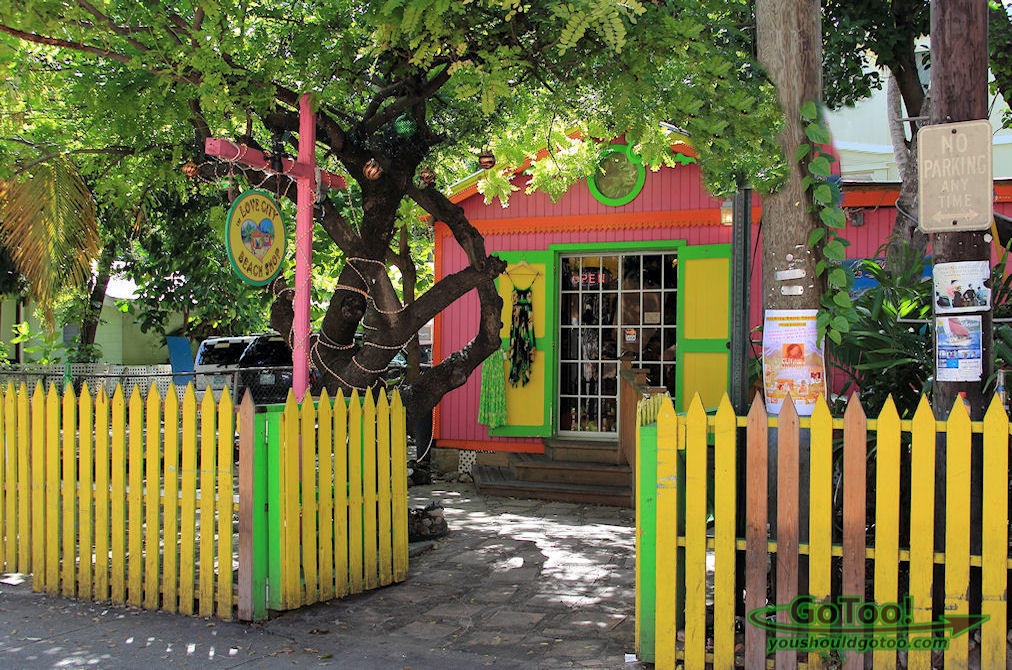 There are many colorful shops in Cruz Bay, we went souvenir shopping in a few of them and found some pretty cool things to bring home.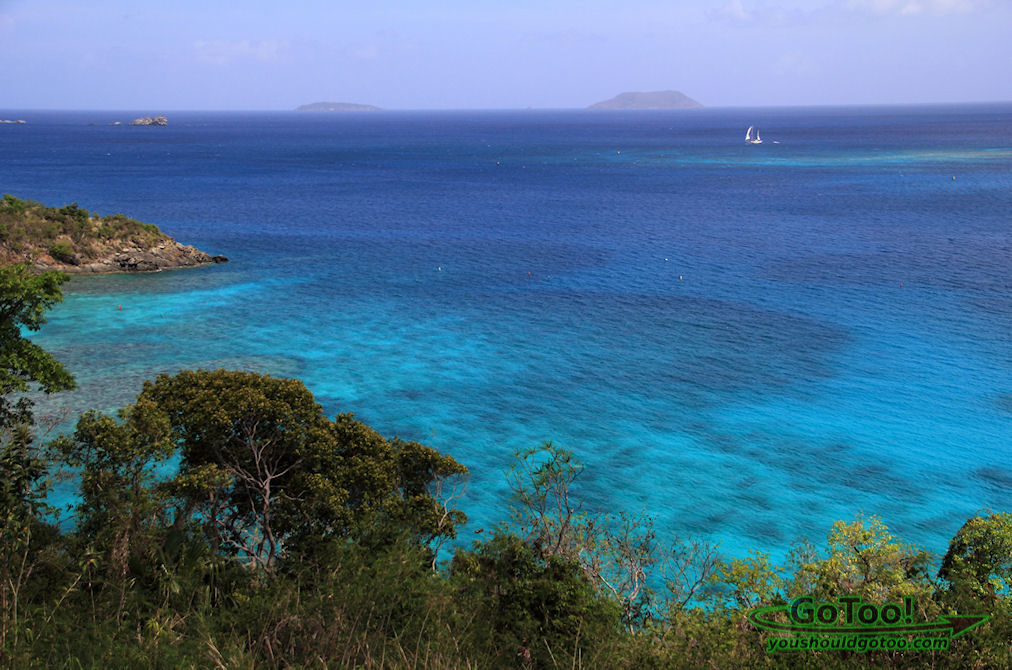 This is such a beautiful view of the Caribbean Sea and the surrounding small islands but I'm not sure where we were when this was taken. Does anyone know where this spot is located on St John?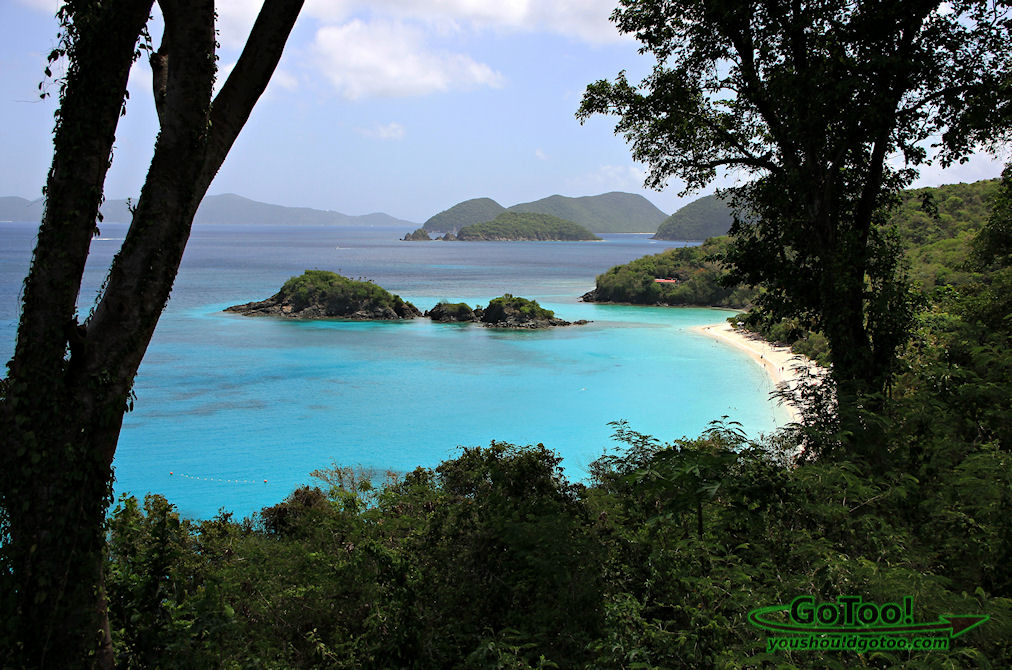 Trunk Bay is St. Johns most famous and most photographed beach and has been voted one of the best beaches in the Caribbean. There's a view point as you approach the beach where you will want to pull over and captured the famous image from high above. You will probably want to just sit awhile and admire this spectacular scene before driving down to the beach. I know we did and it was really hard to leave this peaceful almost surreal spot. This is truly one of the most beautiful scenes in the US Virgin Islands. While snorkeling here you will find a marked underwater trail to follow that is quite interesting leading you to beautiful coral and colorful fish.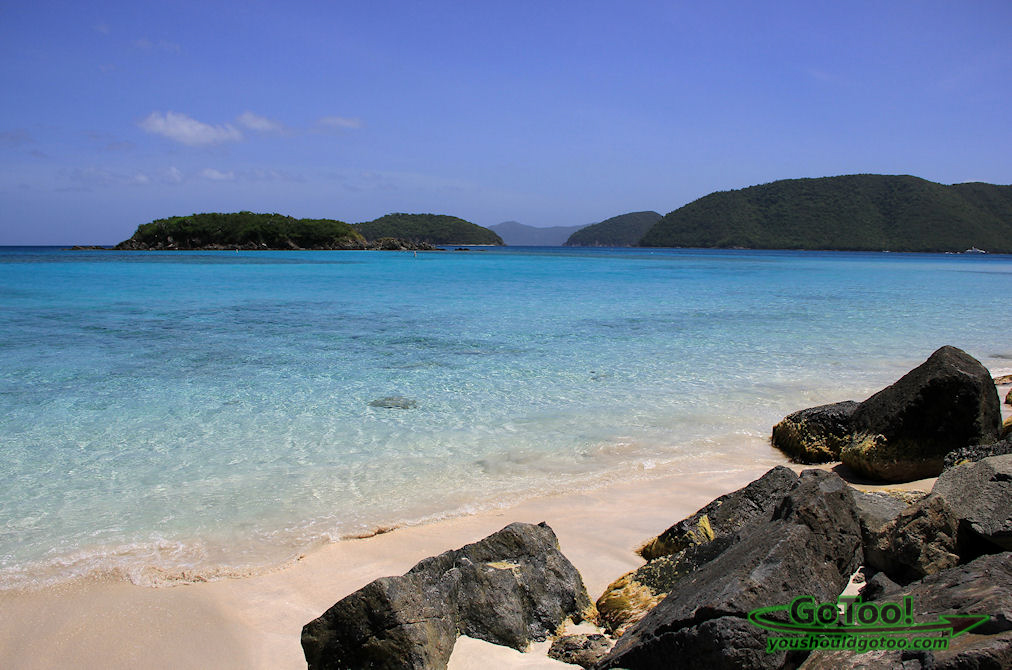 Cinnamon Bay is a very popular beach on St John. Snorkeling is good for all levels here. Beginning snorkels will find areas to explore near the rocks and more advanced snorkels will find very good areas to explore around Cinnamon Cay, the little island offshore from the beach.
The tranquil water of Cinnamon Bay is sure to make you smile and entice you to sit and admire the view. Not a bad pastime for a beautiful day in paradise!
Activities on St. John, US Virgin Islands?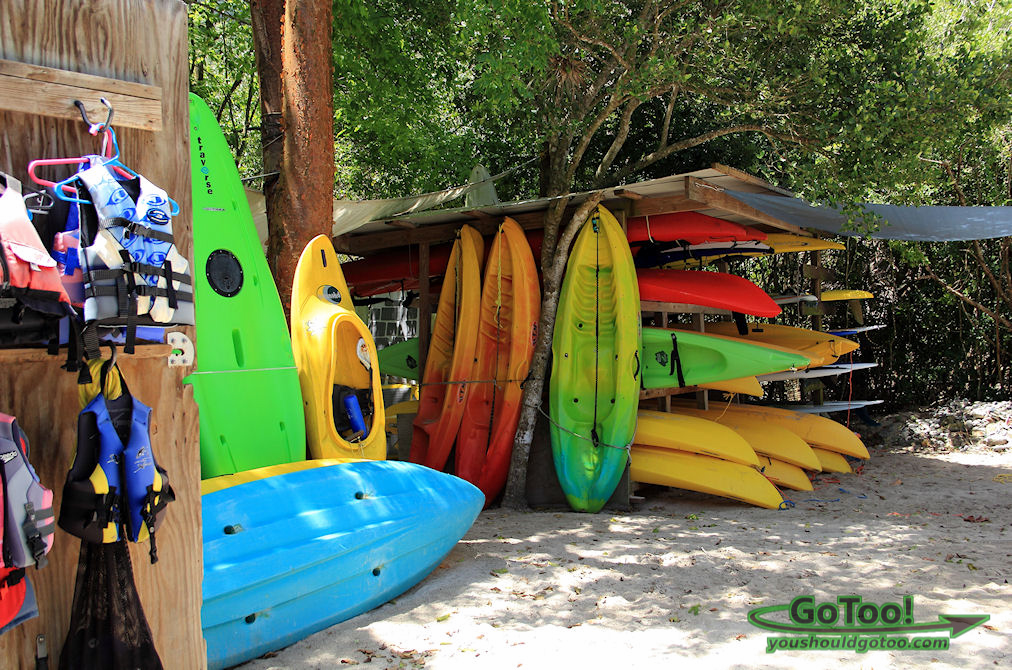 Kayaks and other sports equipment can be rented at Cinnamon Beach. There is a campground here with showers and restrooms. There is also a general store and a restaurant. The snorkeling here is great and the beach is protected so the water is usually calm.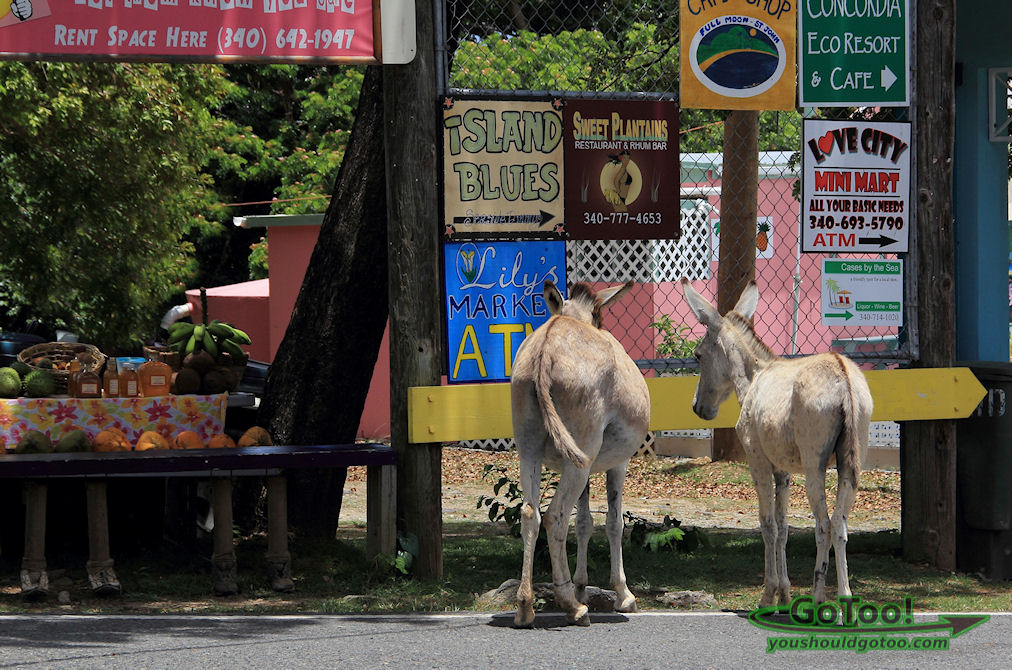 Donkeys can be spotted in some strange places on St. John. We spotted these two shopping at an outdoor market…not sure what they were shopping for but it seemed like they were having a good time. Donkeys were once used in the operation of the sugar mills and still remain today where they can be seen wandering freely around the island.
Annaberg Sugar Mill Ruins is part of US Virgin Islands National Park system. Walking around the structures, which were used to produce sugar and molasses in the colonial days, will give you a feel of the Islands history. Signs along the way will help you visualize how the plantation functioned. The view of Leinster Bay from here is stunning.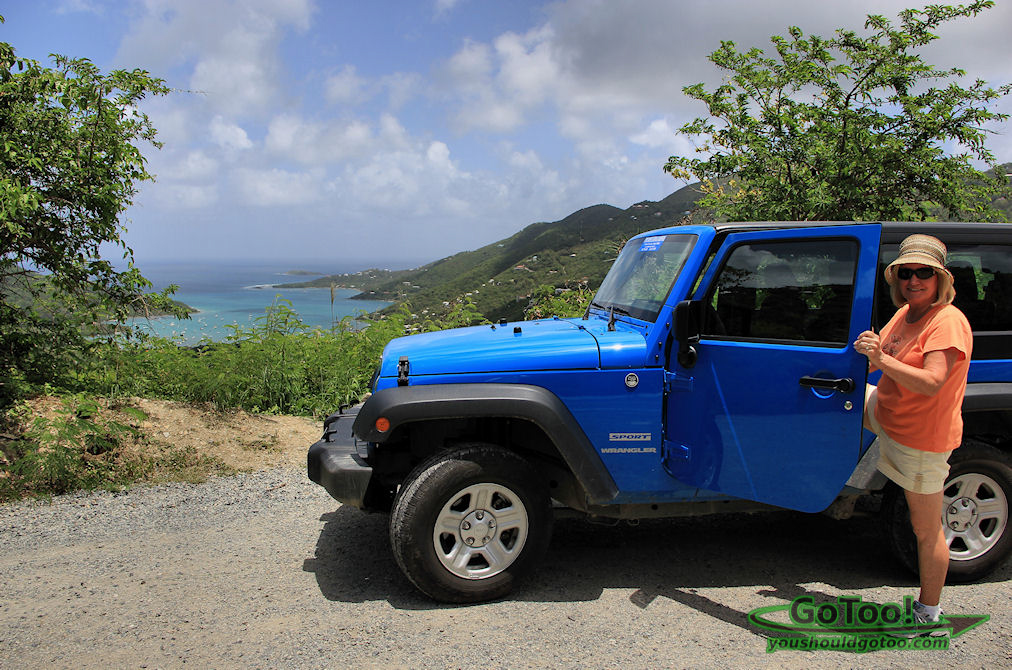 We stopped at the Coral Bay overlook on the east side of the island, the view here is beautiful. Then it was back in the Jeep to continue exploring. Tip: I would suggest trying to negotiate the price of your rental car or Jeep on St John. We were first offered a car but held out for a Jeep and got the one we wanted for the same price as the car we were first offered. We hopped in the Jeep and headed out for the day!
Where to Eat on St. John, US Virgin Islands?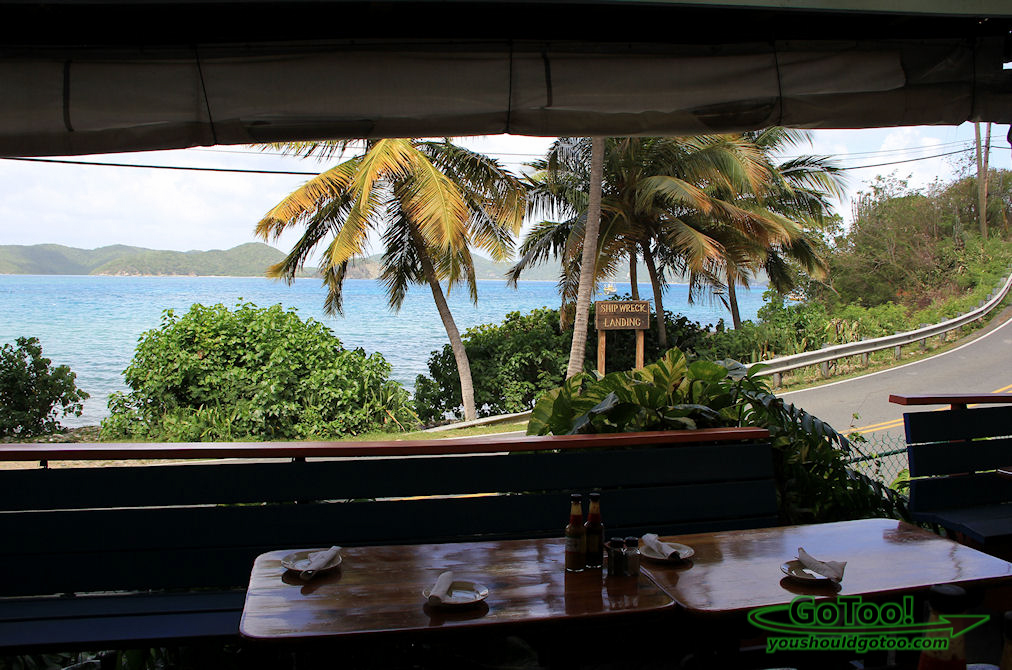 Shipwreck Landing Restaurant, located on the eastern side of the island in the Coral Bay area, is a fun, open air restaurant with great views of the bay right from your table. They serve tropical drinks and a great variety of interesting dishes for lunch, dinner and a 4:00 pm until 6:00 pm menu for in between. Great atmosphere here with live band some nights. There's something for everyone to enjoy!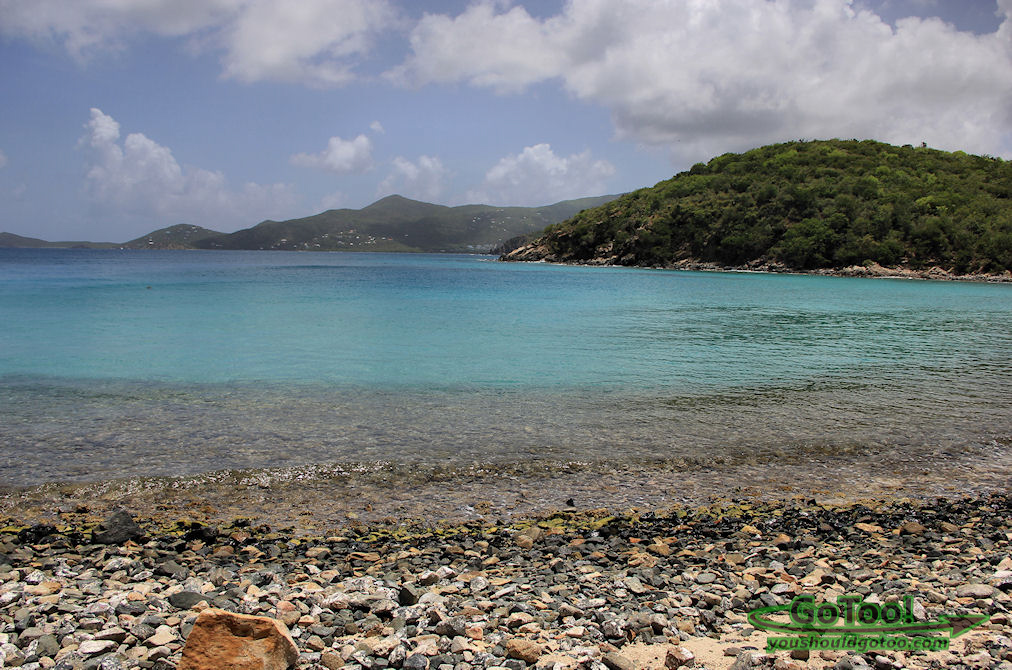 Great Lameshur Bay beach is a neat little beach and very private. We were the only ones there the day we went. The shore is made of smooth rocks but the water is clear and an amazing shade of blue. Snorkeling is great here but you have to be careful when entering the water because of the large rocks which can be slippery. I would not recommend venturing too far out because the current here can get pretty strong. Snorkeling near the shore is very good and you should find plenty of interesting things to see.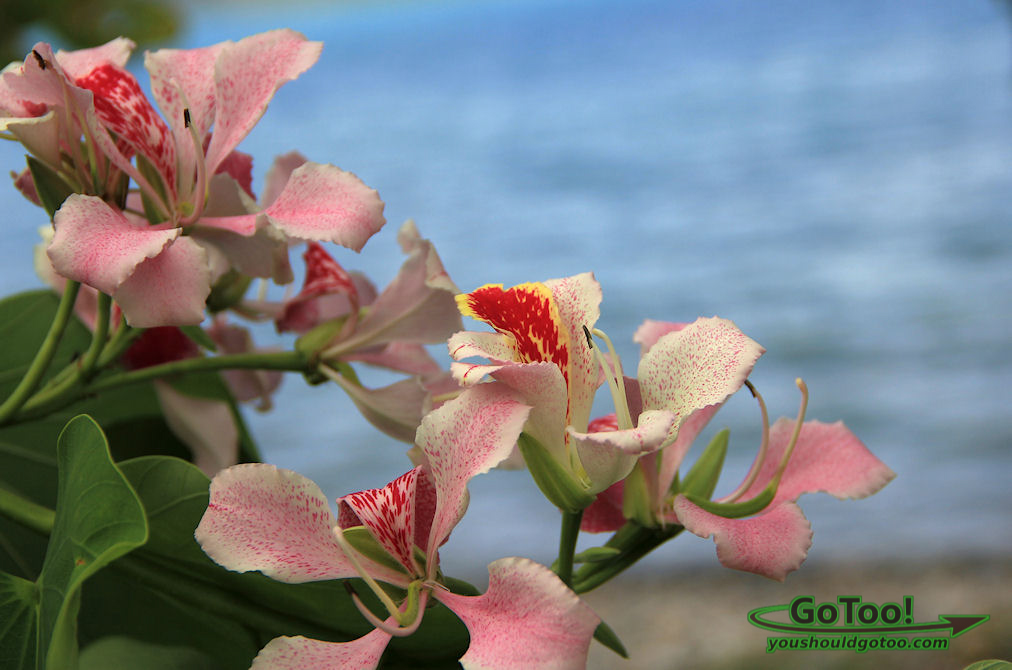 The flowers of the Pink Orchid tree resemble orchids although they are not true orchids. The flowers are beautiful shades of pink and at certain times of the year the trees throughout the US Virgin Islands become covered with these lovely flowers.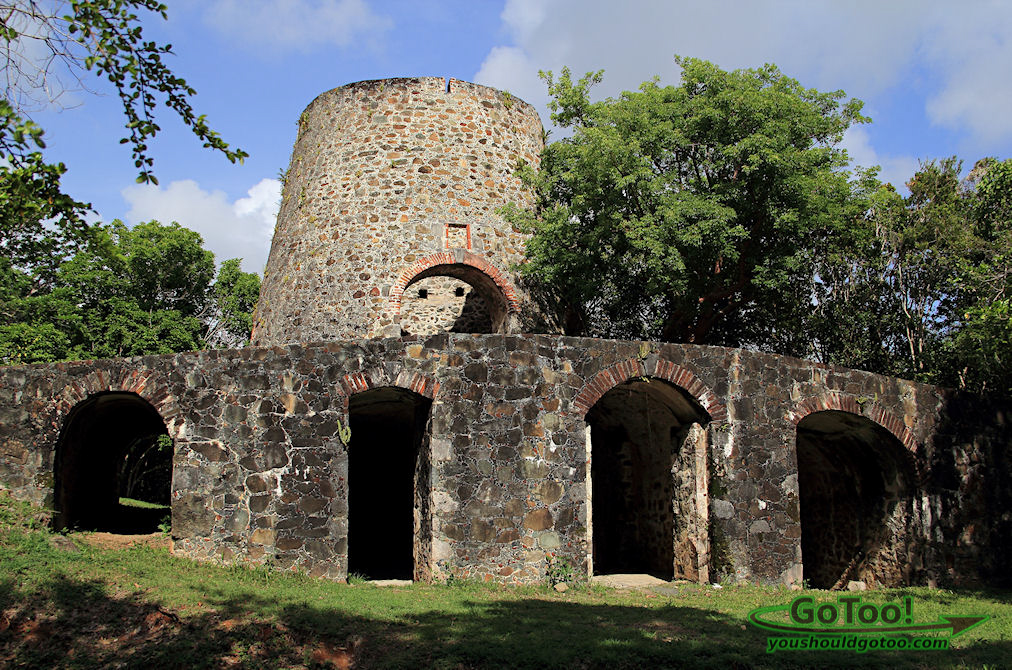 Catherineberg Sugar Mill Ruins located east of Cruz Bay just off Centerline road is interesting. The structures have been pretty much left untouched. There are no signs here to explain how the different structures were used and some of the site is overgrown with vegetation. The large windmill is still in good shape and really worth the stop to see. We found it intriguing to walk around and view this historical site.
We took the ferry from St. Thomas to St. John. When we arrived at Cruz Bay on St. John, we rented a Jeep and headed to the north side of island, continuing down the west side of the island, then following the south side of the island until we were back at Cruz Bay. We had so much fun touring this island, exploring, snorkeling, eating, visiting the sugar mill ruins and photographing that we can't wait to go back to the US Virgin Islands. But, the next time we go we plan on staying on St John.
Have you visited the US Virgin Islands? Let us know your experiences below in the comments!
Related Reviews-