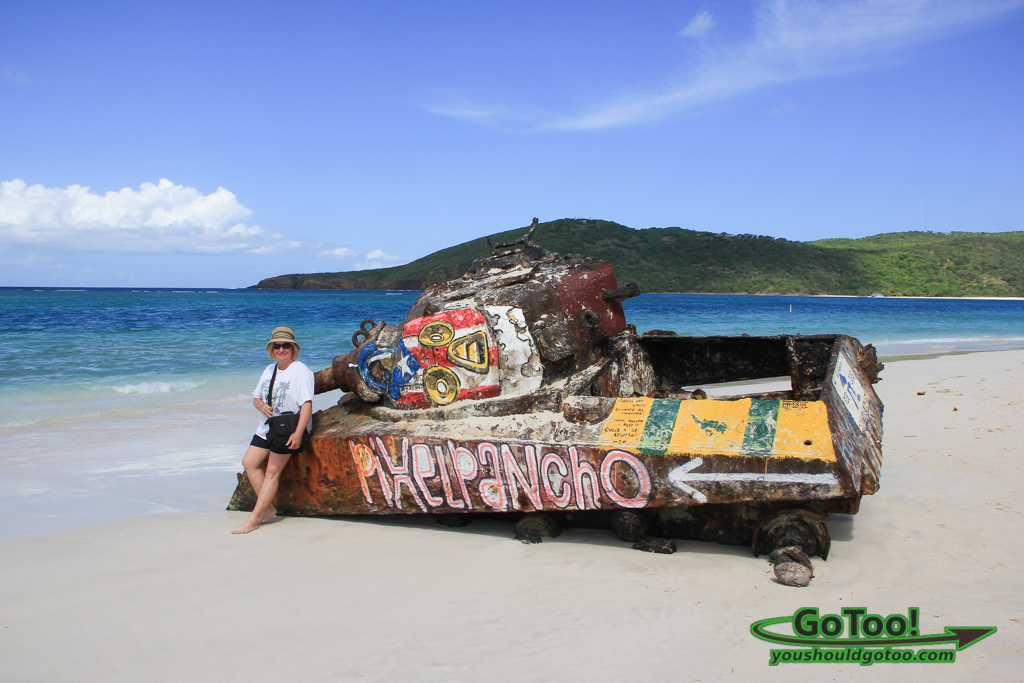 Culebra is a fascinating island virtually untouched by major developers. When you go to Culebra you won't find much in the way of nightlife, fancy dining or even luxury accommodations but what you will find is what draws most people to Culebra…fabulous beaches! From a world class beach to tiny secluded beaches, you will find them all here and if that's not enough to entice you; this tropical paradise has a true laid-back Caribbean Island feel that's hard to resist!
Where is Culebra Located?
Culebra, an island-municipality of Puerto Rico, is located approximately 17 miles off the east coast of Puerto Rico, half way between St. Thomas (read about our trip to St. Thomas and our stay at Bluebeard's Castle) and Puerto Rico. It can be reached by a 30 minute flight from San Juan Airport, a 13 minute flight from Ceiba Airport or in one hour by ferry departing from Fajardo on the northeast coast of Puerto Rico.
We took the passenger ferry from Fajardo to Culebra. We parked our rental car in the secure lot by the dock in Fajardo and rented a Jeep from Carlos Jeeps in Culebra. The ferry ride was fast and the view was beautiful. Tickets cost $2.25 one way, per person. The ferry leaves Fajardo and returns from Culebra several times a day.
YouShouldGoToo Our New and Growing
Zenfolio Gallery
. Metal Prints and Frames Available! Adding Additional Photos Weekly.
About Us
Hi! We are Lou and Barbara, a world traveling, nature loving couple searching out new and interesting places to explore, photograph and share with you our readers.CONTINUE READING
We passed several small islands along the way to Culebra that we would like to come back to someday. I think it would be fun to enjoy a picnic under an umbrella there, don't you?
The Town of Dewey
Dewey, Culebra's only town is where the ferry arrives and departs. Here you can catch a shuttle to and from Flamenco beach for the day. If you've made arrangements for a rental car or Jeep you will be picked up here as well.
The town of Dewey viewed from the drawbridge. Some of the Inns on the Island will also pick you up if you let them know when your ferry will be arriving. There are guest houses, dive shops and restaurants in Dewey as well.
Beaches on Culebra
Not only spectacular to look at but Culebra also has some of the best snorkeling and scuba diving in the Caribbean. The reefs are healthy with an abundance of various types of coral and the variety of sea life is outstanding. On this trip we saw octopus, eels, and sea turtles, cuddle fish and barracuda, just to name a few.
Flamenco Beach is Culebra's shining star. This world renowned beach, ranked #2 in the top 10 list of best beaches in the world is guaranteed to put a smile on your face.
Flamenco Beach has crystal clear turquoise water. The beach extends over a mile long and is blanketed with white coral sand, surrounded by hills covered in coconut trees. Yes, this is what dreams are made of!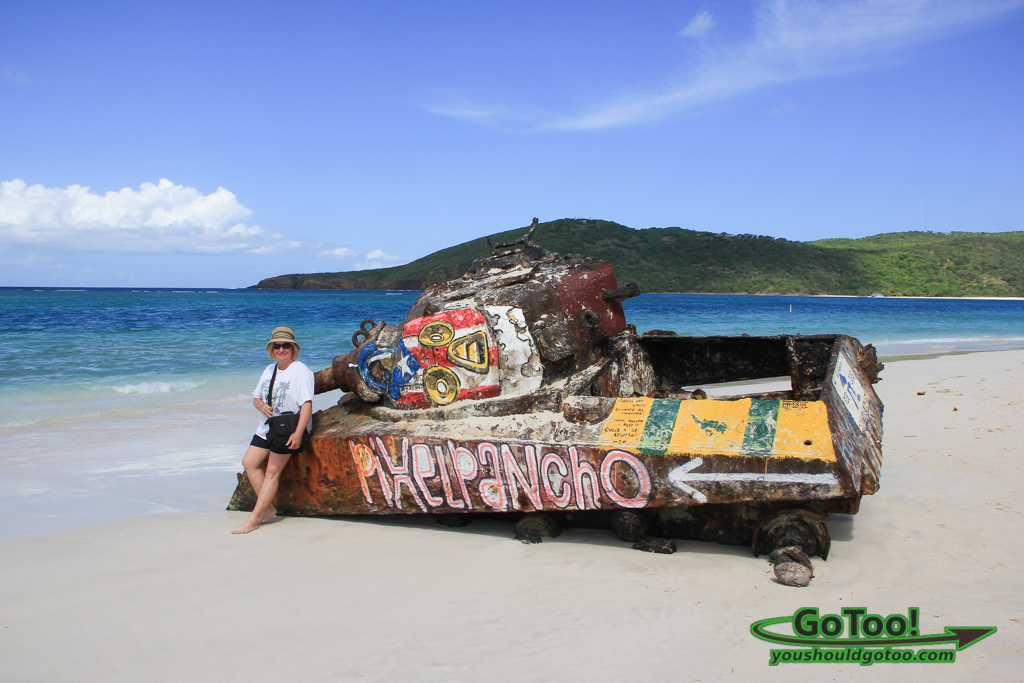 The iconic tank on Flamenco Beach is oddly out of place but something not to be missed. Walk north along the beach and you will soon see this brightly painted tank. The tank was left behind by an earlier military presence on the island where it was used for bombing practice.
Overlooking Zoni Beach, another spectacular beach on Culebra. Zoni is located on the less crowded eastern side of the island. The white sand beach is long and narrow and overlooks Culebrita, the smaller outer island with a spectacular beach of its own. Culebrita makes a great day trip from Culebra.
Tamarindo Beach is great for snorkeling. The reef is beautiful and full of colorful fish. We watched as an octopus scurried back into the rocks, a school of cuddle fish curiously checked us out, and several turtles casually fed on the sea grass below us. While we were there Culebra Island Adventures was preparing a group for a kayaking tour.
Melones Beach has one of Culebra's best reefs on the island and is our favorite snorkeling beach. Enter the water and go to the right along the shore and you will find a healthy reef covered in colorful sea fans, several types of coral and loads of fish. The beach itself is rocky so not good for lying out in the sand. Melones is the closest beach to the town of Dewey.
Baby chicks, roosters and hens were everywhere on the island, especially at Melones beach. We spotted this adorable little chick standing on a coconut shell!
Leatherback Sea Turtles are the largest of all living turtles and they are endangered. It was nesting time and we spotted several nests on Zoni roped off for their protection.
Where We Stayed
We chose Villa Boheme for our 2 night stay. Villa Boheme Hotel (referred to as a guest house) is basic, clean, reasonably price and as customary on Culebra the staff is very friendly. Our requests were always met, although with "island time" standards. Smile – relax – you're on vacation!
White Plumeria were growing all over the island.
Red bougainvillea were in full bloom too.
Activities on Culebra
Relaxing on a beautiful tropical beach is of course the most popular activity (or should I say lack of activity!) on Culebra, but it's certainly not the only activity. If you're like us, a few minutes resting on any beach is long enough before we are ready to explore! Other activities you might enjoy:
On land – hiking, biking, bird watching, or take a sightseeing drive around the island.
In the water – snorkeling, diving, kayaking, hire a captain to go sailing, fishing or to take you to one of the outer islands.
We saw this beautiful view of Dakity Bay as we were sightseeing around the island in our rented Jeep. It reminded us of our visit to Cruz Bay Harbor in St. John in the US Virgin Islands. Both views are stunning!
Places to Eat
Try Pandeli Bakery for breakfast and made to order sandwiches great to eat there or take with you for a picnic at the beach.
Try Mamacitas or Dinghy Dock for lunch or dinner. Both are on the water with a fun atmosphere. Also, El Batey has great hamburgers. It's across from the water and you can eat outside on their patio.
An Island State of Mind
Culebra's island state of mind is definitely not for everyone. If your idea of a relaxing vacation is a 5 star-resort, gourmet restaurants and fancy shopping malls then Culebra is not for you. There is without a doubt a laid-back vibe here. Businesses tend to open and close with the arrival and departure of the ferry or as they feel necessary. The sign on one venders cart reads "Open some days ~ closed others" that pretty much says it all!
When you go to Culebra you'll find basic accommodations, casual dining, and a couple of small grocery stores for your supplies. The residence of Culebra are always friendly and it's safe to walk around the town at night.
If this style of vacation on a beautiful, unspoiled Caribbean island sounds right for you, then you should look into experiencing Culebra – Puerto Rico's little paradise!
Related Reviews-