Cedar Key, Florida is like no place else we have visited.  A laid back, picturesque island community, the relaxed atmosphere of Cedar Key can be contagious. Over the years we have visited Cedar Key many times and have never been disappointed by its old Florida charm and slow paced way of life. In and around Cedar Key you will find many opportunities for excellent fishing, bird watching, shopping and just plain relaxing.
Where is Cedar Key, Florida?
Cedar Key is located 60 miles southwest of Gainesville and 60 miles west of  Ocala, where we recently enjoyed and wrote about our fun day of ziplining. Travel to the end of State Road 24, about three miles out in the Gulf of Mexico, and you will find a quaint little fishing village where time seems to have stood still; a peaceful haven for those fortunate enough to travel there. You will find no traffic lights on this two-square mile community of 702 residents. But what you will find is award winning New England chowder according to the Great Chowder Cook-Off. For the past three years, the Great Chowder Cook-Off in Newport, R.I., has been won by Tony's Seafood Restaurant located at 597 2nd St. Check it out and see what you think of this award winning chowder.
Dock Street is a quaint waterfront street lined with shops, restaurants and art galleries. Budget Travel named Cedar Key one of the 10 Coolest Small Towns in America in 2011. Noting that the last time outside developers set their sights on the key was in the late 1880s. At that time, pencil makers established cedar saw mills there and carted off the islands namesake cedar. The cedar slats were shipped out by rail to their northern pencil factories to become the cedar pencils we are all familiar with.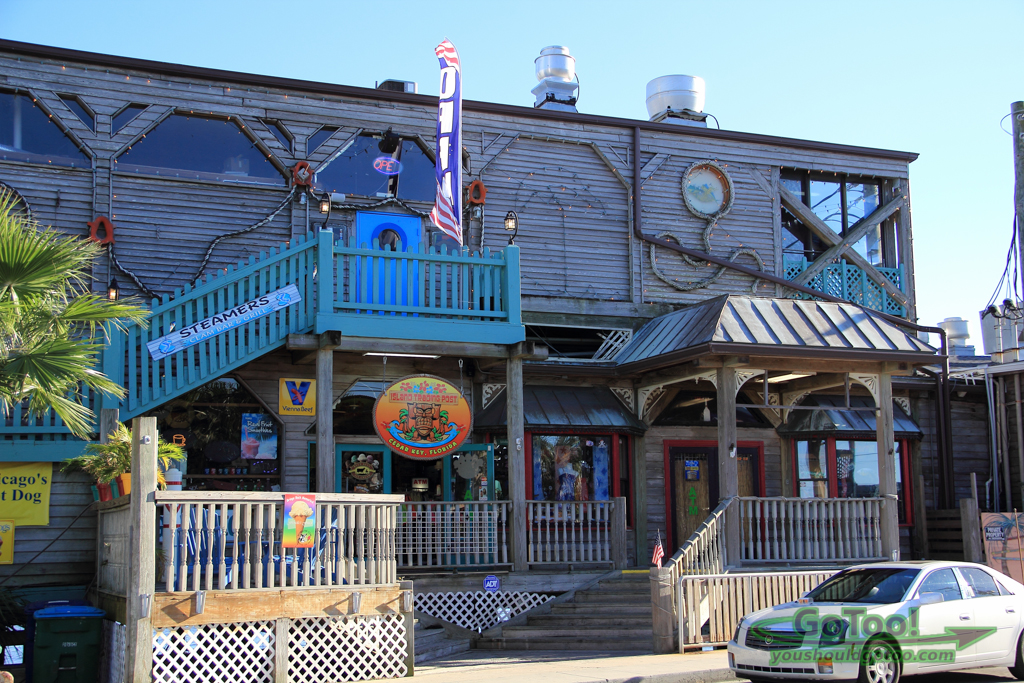 About Us


Hi! We are Lou and Barbara, a world traveling, nature loving couple searching out new and interesting places to explore, photograph and share with you our readers.CONTINUE READING
The shops along Dock Street are colorful and inviting. We enjoyed leisurely browsing through each one. Despite its prime location on the Gulf of Mexico, the key has escaped modern day development. Today, the island still retains its old laid back fishing village charm and slow island pace.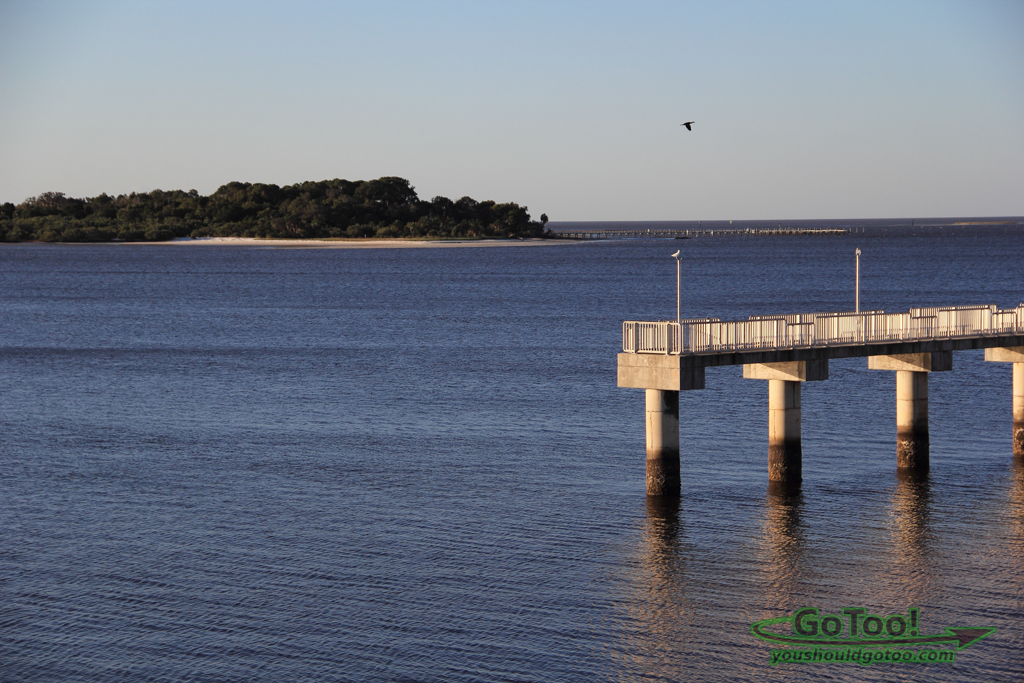 This is the view of the Pier and Island across the way from Dock Street. With its location, just off Florida's northern Gulf Coast, anglers in search of redfish and trout couldn't be happier. We have spent many exciting hours catching one redfish after another as well as several other varieties of fish from the offshore waters. You can rent a boat for the day, trailer your own boat or fish from the new pier pictured above; all are perfect for enjoying your time in Cedar Key.
Where We Stayed in Cedar Key
There are several hotels in Cedar Key to choose from. We chose Harbour Master Suites located on Dock Street for our 2 night stay. Our suite, the Corrigan's Reef, is located on the second level, over looking the water.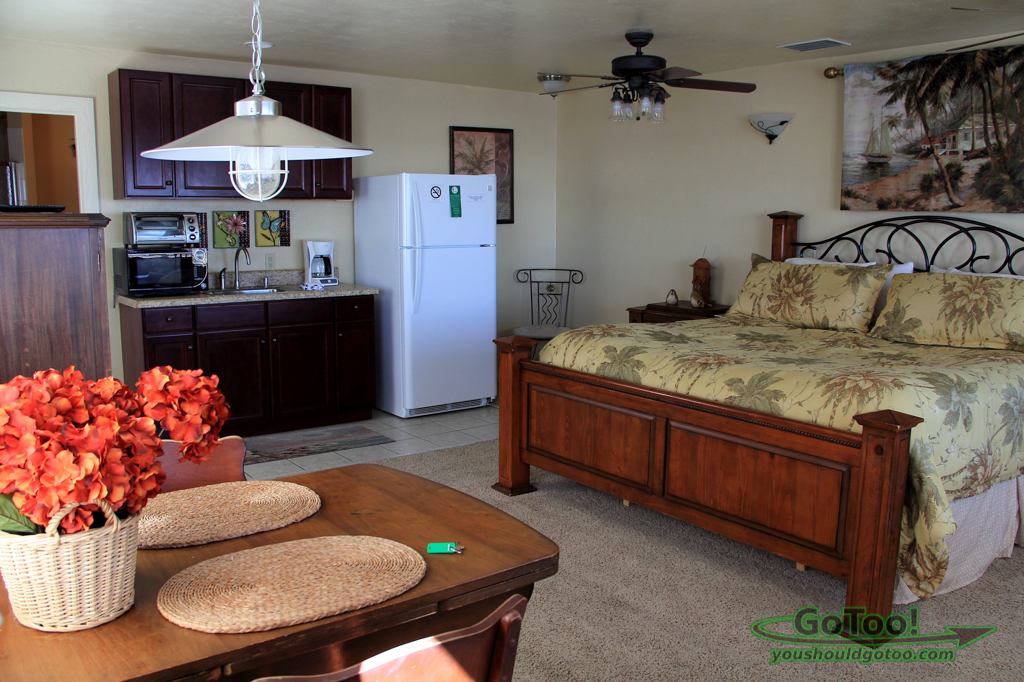 Harbour Master Suites Corrigan's Reef was an excellent choice for our stay. The room, surrounded on two sides by windows, offers an excellent view of the water. It has a fully equipped kitchen, dining area and private balcony.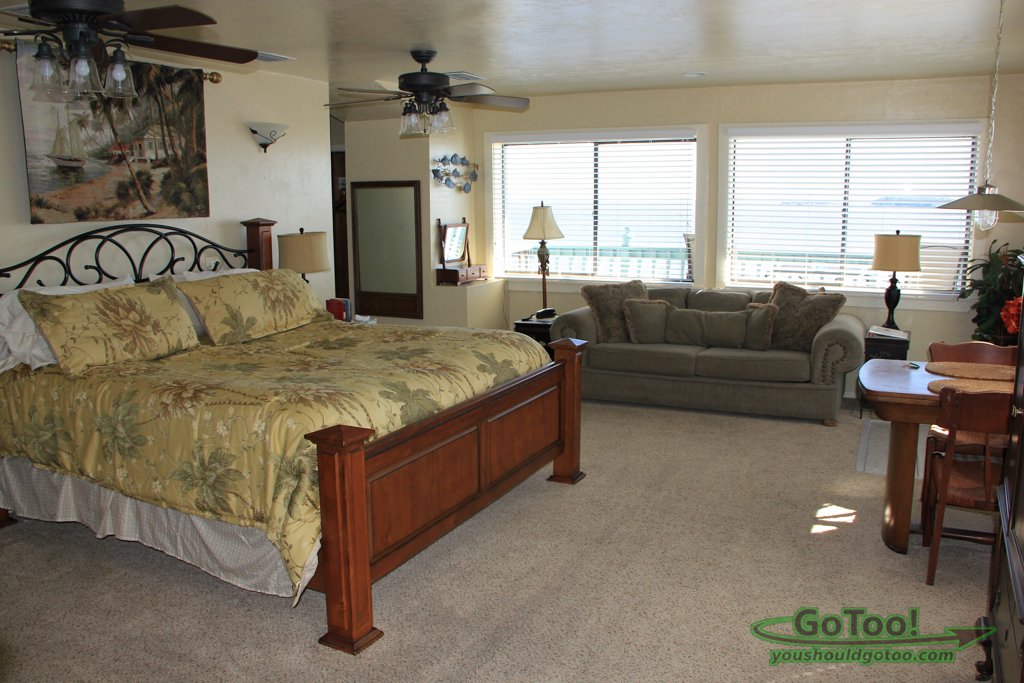 Harbour Master Suites provided everything we desired for our two day relaxing getaway. We prepared some of our own meals and enjoyed them on our private balcony. In the evenings it was mesmerizing to sit on the balcony, sip a glass of wine and watch the day come slowly to an end. Romantic, relaxing and just what you'd expect from this peaceful little fishing village.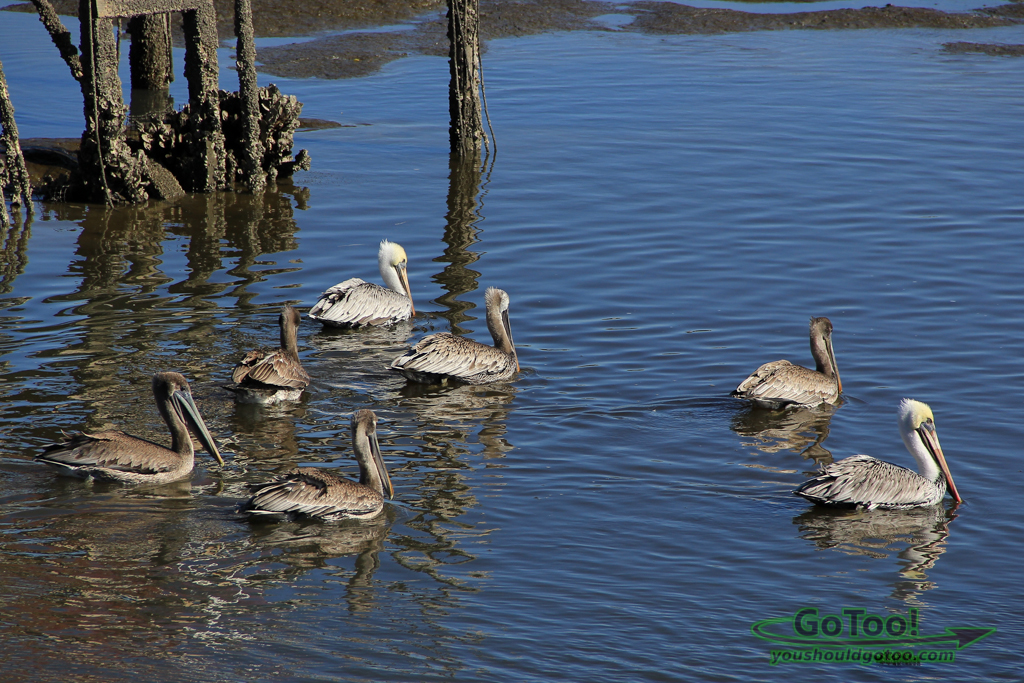 Pelicans enjoying a rest during low tide. Cedar Key is a birdwatchers paradise and you will notice pelicans and other shore birds always close by. We watched from our balcony each day as pelicans dove for their catch in the nearby waters. Other birds came near by looking for a hand out, which of course we were happy to provide.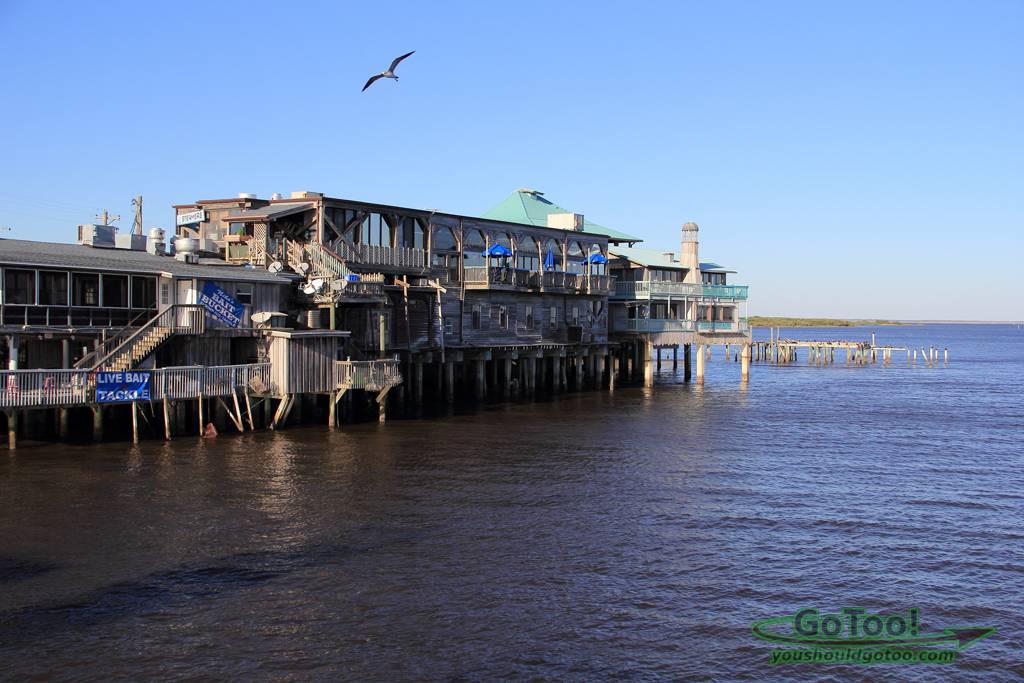 Shops and restaurants can be seen from the fishing pier. Harbour Master Suites, where we stayed is the last building on the right side of the image. Notice how the buildings are all on stilts jutting out into the water, very cool.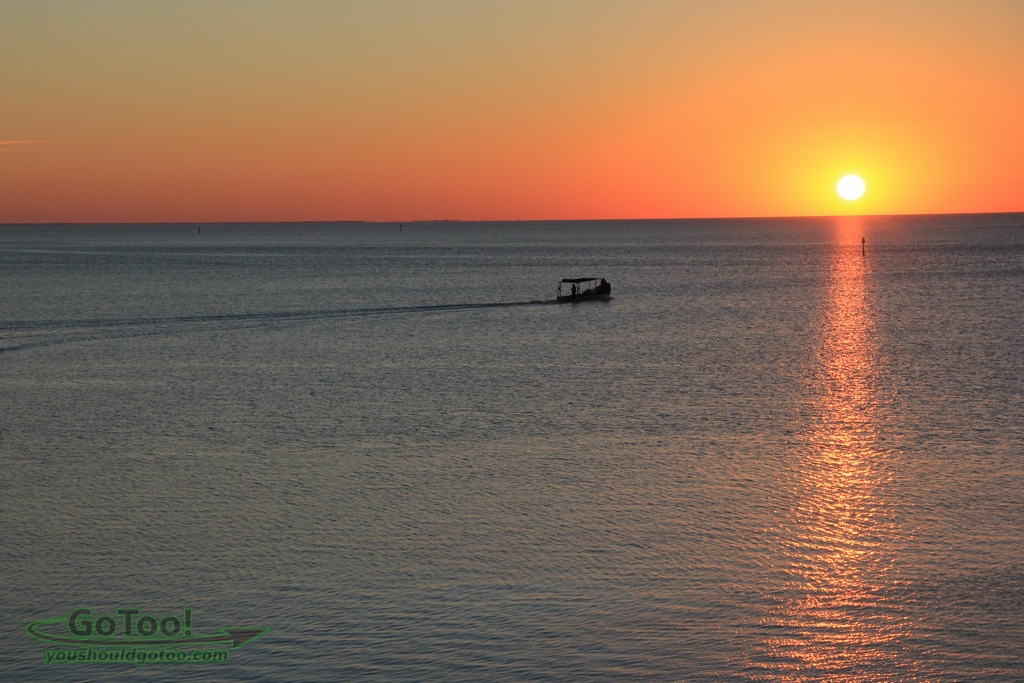 Fishing boats headed out at sunrise. Each morning we leisurely enjoyed our coffee and breakfast on our balcony. We watched several fishing boats headed out for a days work and couldn't help but think how blessed we all were to witness such a glorious beginning to a new day.
Historic 2nd Street in Cedar Key, FL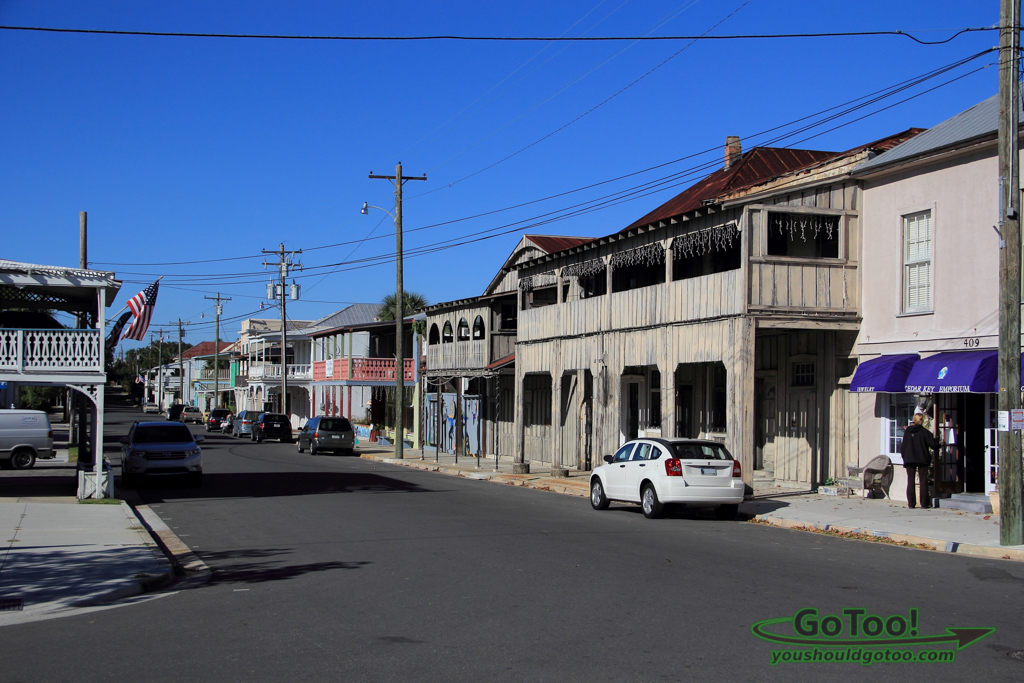 Historic 2nd Street in Cedar Key, FL is located just a block or two inland. This is where we started our early morning walk. I noticed that we seemed to be some of the first people out and about that morning. Well, that's exactly what I mean about being a slow paced, laid back island town! No ones rushing, no ones in a hurry, slow down, it will all get done in due time. Some of the buildings along 2nd Street were built between 1859 and 1860 and they were built to last. The Island Hotel located at 373 2nd Street is one of those buildings. It was built out of cypress and "tabby", a mix of lime, sand, water and crushed oyster shells. The Island Hotel still looks good today.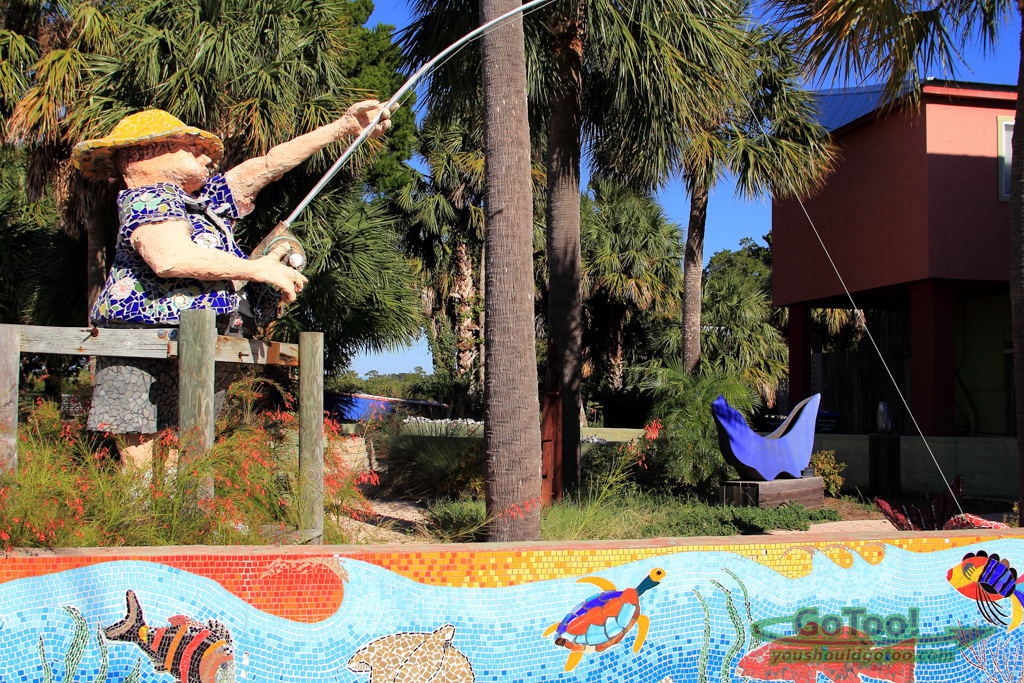 We spotted this mosaic fisherman on our walk along 2nd Street. I had to admire his colorful hat and Island shirt, he's sure to attract a "boatload" of fish!
The Chamber of Commerce of Cedar Key, located at 618 2nd Street, is waiting to assist you with your visit. Each year thousands of visitors come to enjoy the Old Florida Celebration of the Arts in April, the Fourth of July Celebration and the October Seafood Festival. Check out the Chamber of Commerce's site for a complete calendar of upcoming events and enjoy your visit to a place like no other. As I mentioned, once you visit Cedar Key, you will always have a desire to return!
Have you been to Cedar Key, FL? What about Tony's Seafood Restaurant? Have you tried their Clam Chowder? We'd like to hear from you too, in the comments below!
Related Reviews-