Montepulciano, Italy is the biggest and highest of southern Tuscany's medieval hill towns. It is steeply graded with hardly a flat street in town. On the morning of our 2nd day in Montepulciano, we took another walk around this fascinating hill town. We certainly didn't want to miss anything, so off we went once again.
Our Stay in Montepulciano
We stopped at this overlook of Montepulciano where the wall surrounding the city can be clearly seen. The city has so much charm and history that I found myself entranced in the view of this medieval town perched high on a hilltop.
This is the second post in a 2 part series about Tuscany, Italy and the hill town of Montepulciano. Start with part I to read the whole story.
YouShouldGoToo Our New and Growing
Zenfolio Gallery
. Metal Prints and Frames Available! Adding Additional Photos Weekly.
About Us
Hi! We are Lou and Barbara, a world traveling, nature loving couple searching out new and interesting places to explore, photograph and share with you our readers.CONTINUE READING
Tuscany vineyards and the surrounding countryside of Siena are some of the most photographed scenes in all of Italy. The rolling hills, farms and rows of olive trees make up this charming setting. We photographed this view along our morning walk in Montepulciano.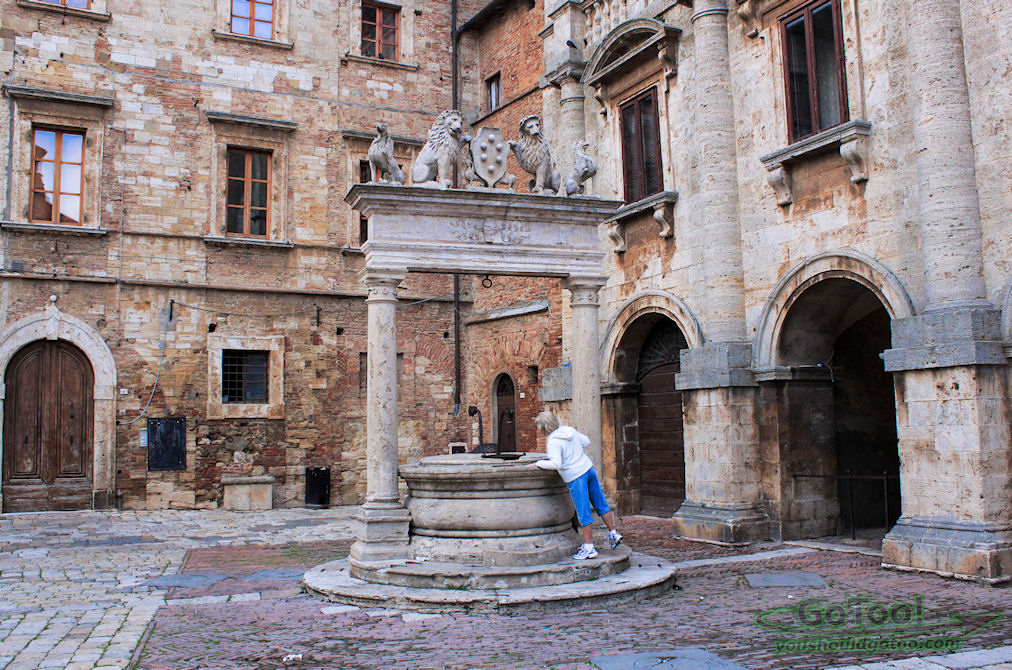 The well in the Piazza Grande of Montepulciano was constructed in 1520 with two lions from Florence and two Montepulciano griffins supporting the Medici coat of arms. A rustic well, it is situated on the side of the Palazzo Nobili-Tarugi. I couldn't resist peering into the well.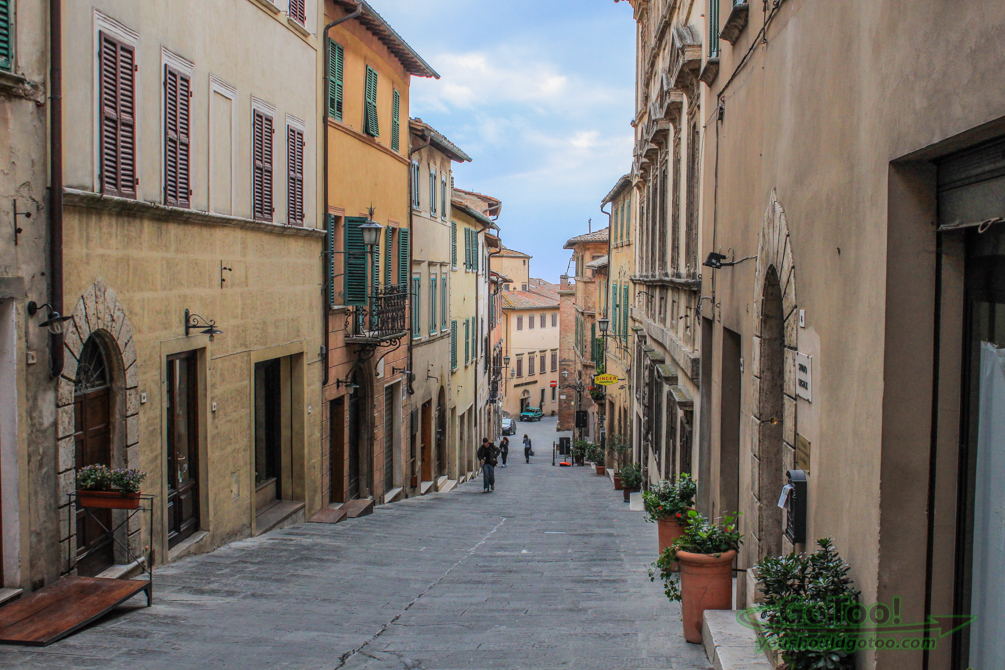 Walking along the streets in Montepulciano we found that there was hardly a flat road in town, and at times it was quite steep. Because the town enjoys car free pedestrian streets, walking around this historic walled city can be very enjoyable. When you go to Montepulciano you will find many attractive streets lined with markets, shops and wine stores. Bottega del Rame is one of the shops that we enjoyed visiting. They specialize in fine crafter copper products for the home and kitchen. Well worth a visit while in Montepulciano.
Laundry day in Tuscany. As we walked through the ancient streets and explored the tiny medieval alleyways, I couldn't help but marvel at the many years of history that this fascinating town has witnessed. Time seemed to slow down here and many day to day chores were still being done the way they were long ago. I sometimes think this is the way we should all be enjoying our lives, don't you?
Driving Through Tuscany
Vineyards in Tuscany contain possibly Siena's most enchanting and picturesque landscapes. It must be delightful to wake up each morning to such an amazing sight.
The grapes growing on these vines were some of the most beautiful grapes we had ever seen. They were a deep purple color and perfectly ripened, sure to make a splendid glass of wine someday.
Olives from Italy produce some of the world's most delicious olive oil. The rows of trees in this grove were laden with olives. I had to wonder how they are picked and processed. I think it would be interesting to take a tour of the grove and its operations; I guess I will just have to return to Tuscany once again!
This vineyard in Tuscany was enjoying the sunshine that was being cast upon it. It was late September when we visited the Siena area and the leaves were beginning to show their autumn colors, and the grapes appeared ready for picking. I could almost taste the flavor of fine Italian wine.
Palazzo Contucci Wine Cellar is in Montepulciano. While there, we decided to stop in for a quick look around. The gentleman there invited us in, encouraged us to look around, take our time, and of course take photos. The wine cellar had a wonderful atmosphere that I hope you can see in this image. The wine barrels were a warm amber color and the walls of the building were showing their age; the perfect setting to mature fine wine.
A Tuscany sunset was another vision I had dreamed about. We sat at this hill top not wanting to leave as we watched the sun fade across the vineyards. It had been a glorious two days in Siena, two days I will never forget.
Tuscany is a splendid region to visit. The scenery is not only stunning, but the people are friendly and always have a smile on their faces, or an outstretched hand to great you. We loved our time in Tuscany and our stay in Montepulciano was the highlight of our trip to this area. We're looking forward to returning soon!
Happy Travels!
Have you been to the Tuscany region or visited the town of Montepulciano? What was the highlight of your visit?
Related Reviews-