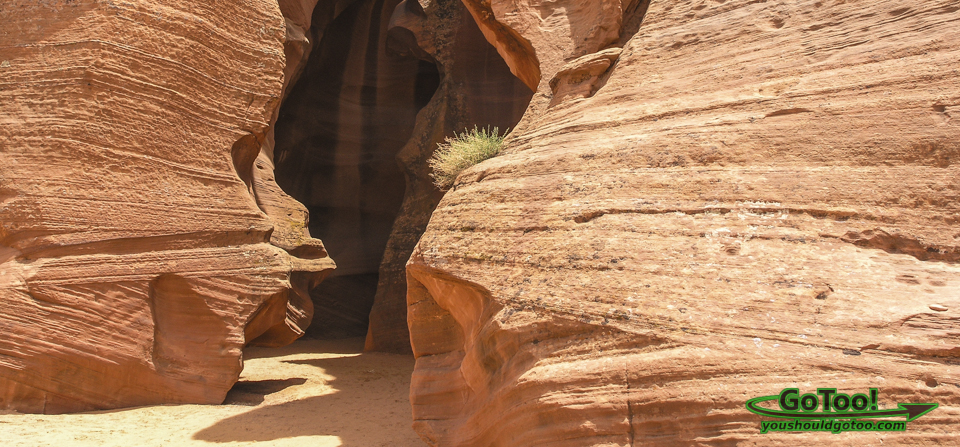 Antelope Canyon with its stunning colors and mysterious formations is truly awe-inspiring and can provide photographers with fascinating and colorful image like nothing you have seen before. The slot canyon located on Navajo land near Page, Arizona is the most visited and most photographed slot canyon in the American Southwest.
What is Antelope Canyon?
Upper and Lower Antelope Canyon are slot canyons. A slot canyon is a deep, narrow canyon that has been formed mainly by water and wind rushing through the rock or sandstone. This eroding action on the sandstone created a long, winding passageway throughout the canyon. The canyons name comes from the pronghorn antelope that roamed freely in and around the area years ago.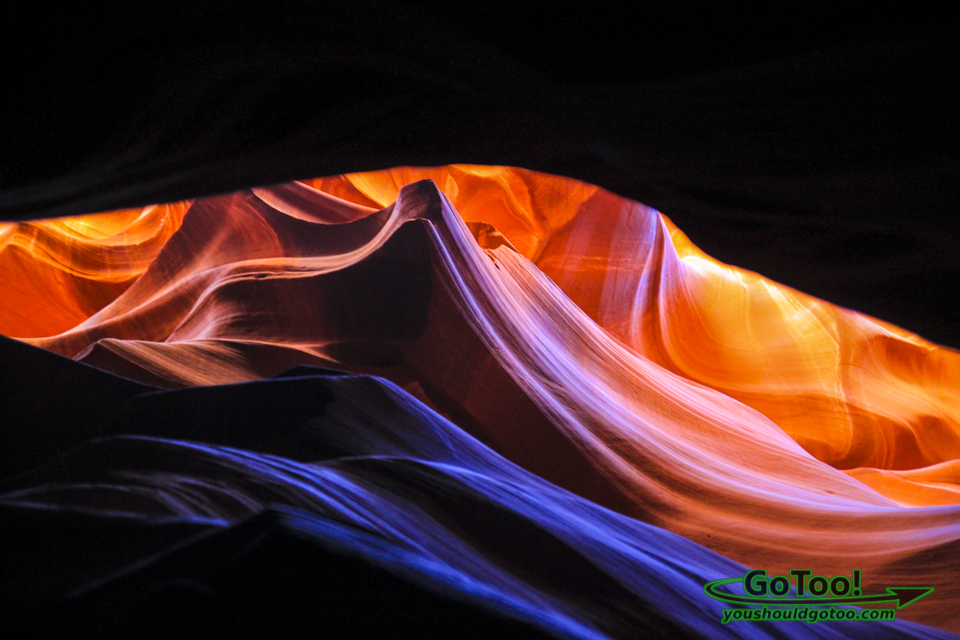 The Navajo Sandstone inside the canyons has taken on amazing shapes and colors due to light and many years of erosion.
YouShouldGoToo Our New and Growing
Zenfolio Gallery
. Metal Prints and Frames Available! Adding Additional Photos Weekly.
About Us
Hi! We are Lou and Barbara, a world traveling, nature loving couple searching out new and interesting places to explore, photograph and share with you our readers.CONTINUE READING
Where is Upper Antelope Canyon?
Upper Antelope Canyon, also known as "The Crack" is located on Navajo Nation land near Page, Arizona. A ticket booth located at the park entrance can be reached along AZ 98 at milepost 299. Limited access is allowed, so if you'd like to hike the canyons you must park your car, pay a fee to the Navajo Nation and have an authorized guide take you to the canyon entrance. There's a two hour limit in each canyon. Photo tours are also available for an additional fee allowing a longer time in the canyon.
Your guide will drive you in a 4 wheel drive vehicle to the entrance of the upper canyon approximately 3.5 miles away. The ride itself is somewhat of an adventure. You and a group of other visitors will be driven along a bumpy, very sandy route that is actually a wide, dry wash or riverbed that happens to be dry at the moment. Hang on and have fun!
Upper Antelope Canyon is the most popular of the two canyons mainly because the conditions are ideal here. You enter the canyon on a flat, level surface with no climbing required and the passageway inside the canyon is wide and easy to navigate. The canyon is ¼ of a mile long with walls rising 130 feet above you.
Also, the canyon has several fascinating features. Light beams can be seen piercing through the canyon around mid-day between March 15th and October 7th and grains of sand that have accumulated on the sandstone ledges flow like sand waterfalls when given a little push. When the light beams are visible your guide may toss a handful of sand in the air making the shafts of light more visible in your photos. Your guide may also give the sand piled on the ledge a little push setting it in motion flowing over the edge. Both of these actions can provide impressive photos.
As you walk along the canyon floor you may notice logs, branches and tumbleweed that have become stranded on ledges or lodged in crevices high above the canyon floor. The force of the water that rushes through these canyons during times of flash flooding is powerful and will carry everything in its path along with it.
The amount of carving and polishing to the sandstone canyon walls due to erosion and time is hard to believe. Stunning colors are especially visible during the summer months.
Swirling colors and amazing light in the canyon will capture your imagination. It's almost like being in a fantasy land but it's real.
 Where is Lower Antelope Canyon?
The upper and lower canyons are separated by only a few miles. Lower Antelope Canyon, also known as "The Corkscrew" can be reached along RT 222, a flat dessert road off of AZ 98.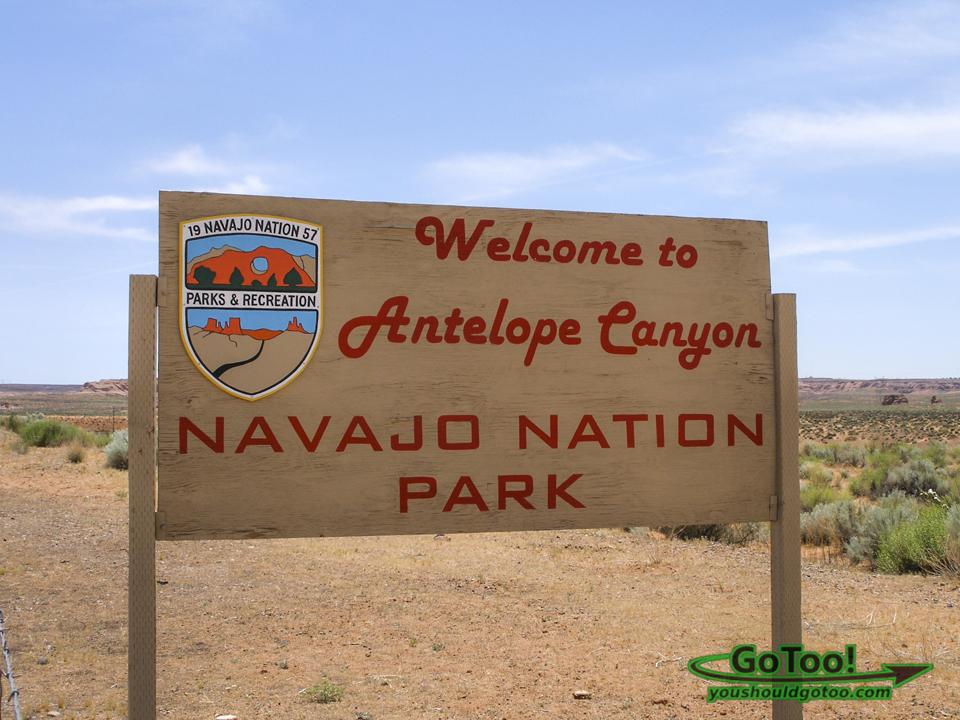 A Navajo Nation Park welcome sign is located near the ticket booth where you can park, purchase your ticket and get a guide.
After purchasing your ticket your guide will take you along a flat, sandy wash to the entrance of the lower canyon. The entrance to the canyon is a narrow crack in the ground measuring only 1 to 2 feet across. It is more challenging to enter and navigate through than the upper canyon.
Be prepared to lower yourself into the canyon and climb down the metal stairs that have been anchored into the canyon walls. The climb is not difficult if you are in reasonably good physical condition and is well worth the effort once you have entered the canyon. The metal ladders have been installed in the canyon for added safety. Weather miles away can affect the conditions in the canyon due to rain and flash flooding. In 1997, a thunderstorm 5 miles away from the canyon caused a 50 foot deep flash flood that ripped through the canyon killing 11 tourist. ALWAYS check the weather anytime you plan on entering ANY slot canyon.
The canyon has some amazing and colorful formations like this one known as Windswept Woman. The canyon is ½ mile long, with walls approximately 150 feet high.
Take your time exploring the canyon, you may be surprised at what you find. We were surprised to hear birds singing and see them perched high above us on the canyon walls. We stumbled upon this fragile birds nest lined with pale blue feathers. The nest must have fallen from a cliff high above the canyon floor. It looked so out of place deep inside the canyon.
Antelope Canyon is a place hard to put into words; you need to experience it yourself to truly appreciate its mystifying beauty.
You can visit Navajo Nations Parks and Recreation site for Hours and Fee information
http://navajonationparks.org/navajo-tribal-parks/lake-powell-navajo-tribal-park/hours-fees/
We'd like to hear from you!
Have you been to the canyon or are you planning a trip there? Give us your thoughts in the comments below, we love hearing from you!
Related Reviews-